PROTECTING HIGH-VALUE ELECTRONIC ASSETS
Electronics & IT Shipping Services in Los Angeles
Our Los Angeles electronics shipping company is known globally for the premier handling of large, sensitive, and expensive assets. We're chosen by the nation's most selective and innovative technology companies because we're trusted as shipping industry leaders. Our dedication and experience provide the ultimate protection through the turbulent terrain of the shipping stream.
Our specialists will pack, crate, and transport your electronics to almost any location worldwide through our reliable global network. When you ship with Craters & Freighters in Los Angeles, you can feel confident that your IT equipment, computers, sensitive electronics, and laboratory testing supplies will get to their final destination free from harm and without incident.
Computer Equipment Packaging and Crating
The shipping process can be challenging for your fragile and valuable computer components. Our team is trained and knowledgeable, able to meticulously assess each item you ship with us to ensure its safety. Feel confident knowing that we will accurately determine everything necessary for a smooth shipment, from what kind of padding is required to minimize vibration to what specifications the customized crate must meet to protect the device during transit.
Our LA shipping company provides comprehensive packaging and crating solutions that serve to maximize efficiency and keep your electronic assets in our reach at all times. With our impressive array of services comes a team of professionals with an unparalleled skillset. Using spec-driven software, insider insight, and decades-long experience, your items will be expertly packaged and crated for their journey.
Our team expects the unexpected and prepares each unique item for the worst to create the ultimate in protection.
On-Site Crating
Having worked with leaders in the technology industry, we've learned a great deal about electronic assets and how to handle them. We know that fragility and size often keep you from getting your items to our facility, which is why we are happy to come to yours.
Our crating and packaging team can design and build a custom container on-site using the same methods we use at our warehouse. You can trust that we never sacrifice the integrity of our materials, craftsmanship, or design process, no matter where your crate is built.
International Shipping
If your electronics need to travel overseas, we have international shipping services that promise safe and steadfast entry into their destination country. Keeping our ISPM 15 certified wooden crates up to code and meeting all country guidelines for entrance, your assets arrive securely, with no hindrance.
With these assurances, you also have LA's finest shipping logistic team that will handle the finest details of your international electronics shipping project- from start to finish. Moving these valuable items shouldn't be stressful. We have everything needed to generate a successful shipment so you can stay focused on other matters.
Insurance for Your Electronic Shipment
We care about your confidence and will do whatever we can to give you peace of mind through the shipping process. Contact Craters & Freighters Los Angeles today to learn about our insurance coverage. We're not happy unless you are, and our shipping professionals will give you the best options from services, packaging, transportation, and insurance so you can rest easy.
You can rely on Craters & Freighters Los Angeles for all your electronics shipping needs.
We use the most advanced packaging methods and high-quality materials to ensure a safe journey.
Computer hardware
Computer terminals
LCD and plasma monitors/TVs
Server racks
Video conferencing equipment
Telecommunication equipment
Testing equipment
Sensitive laboratory equipment
Air-ride trailers and box trucks
Local blanket-wrap server moves
Long-haul server moves
Dedicated trailer or box truck services
Expedited truck moves that include two-man, monitored, and secure teams for high-value IT equipment
Ocean container, LCL, or FCL
Pickup and pack-only ready on our dock for your carrier
You have a business to run and essential electronics that need to get to their destination on time and damage-free. Our solutions and our specialists ensure that happens. Through ingenuity, creative and thoughtful protection, and security, intuitive logistics support, and the best customer service in the industry, Craters & Freighters LA is your only stop for a smart, responsible shipment.
Premium Protection for Your Valuables
You can be confident we use the latest packaging technologies to prepare your electronic valuables for safe shipment, whether that's across the country or around the world, by land, sea, or air. We excel in shipping the most challenging assets; oversized and sensitive items are in good hands with us.
Custom wood crates — single-use or reusable
Palletization — strapped and wrapped
Anti-static packaging to minimize static shock
Floating decks to allow for movement in the lateral, longitudinal, and vertical direction for sensitive electronics and equipment
Built-in ramps for ease of removal and repack
Shock and tip sensors
Vapor barrier bagging (Method II pack) for long-term storage, high-humidity moves, or international ocean moves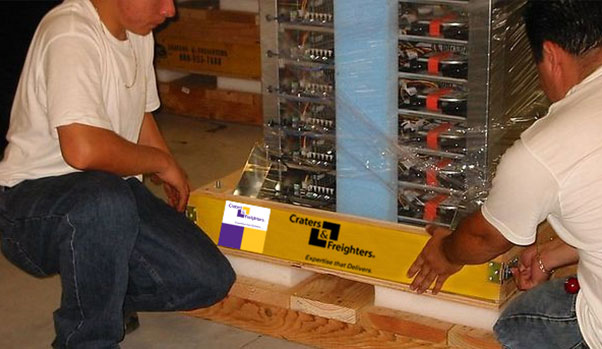 Get a fast, free, no-obligation cost estimate from Craters & Freighters Los Angeles.
Provide some information on your needs, and we'll get back to you right away with a figure you can use in your planning.
Serving the Greater Los Angeles County from East & West Los Angeles, Santa Monica and Beverly Hills to Agoura, Van Nuys & Sylmar, Pasadena, Glendale and Carson.